News
Heavily pregnant woman arrested with Meth in Edo
A 25-year-old pregnant woman identified as Haruna Favour, has been arrested by Officials of the The National Drug Law Enforcement Agency (NDLEA).
Favour was arrested on Friday, September 9, with 82 pinches of methamphetamine, various quantities of Loud, Arizona, and Colorado variants of cannabis and codeine-based cough syrup in Auchi, Edo state.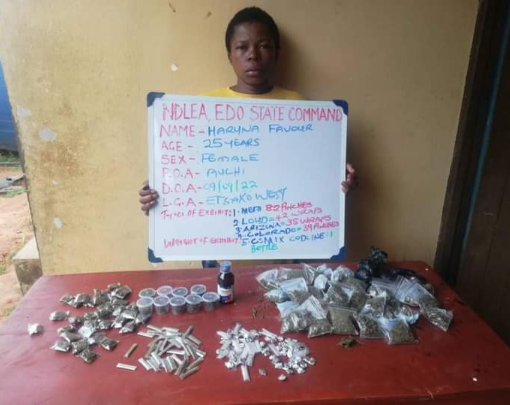 The Director of Media and Advocacy of NDLEA, Femi Babafemi, confirmed the arrest on Sunday, September 11.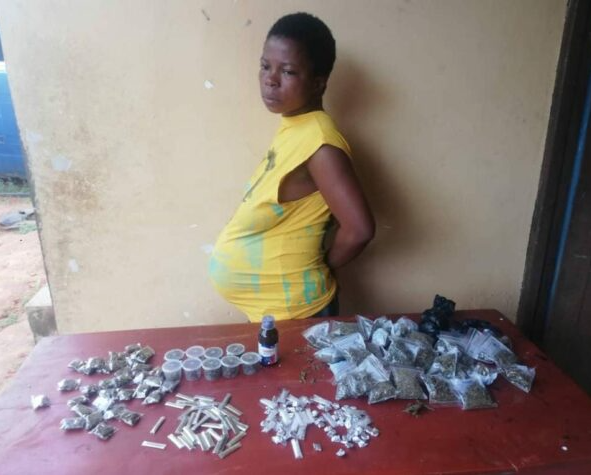 Also, in Kogi State, a suspect, Paul Ali, aged 47, was arrested on the Okene-Abuja highway with 1,404 bottles of Codeine based syrup weighing 190.94kg and 2,040 ampoules of pentazocine injection coming from Onitsha, Anambra State to Sokoto State.
Last year, House of Representatives, revealed that since 1990 the production of crystal meth had been hijacked by Mexican drug dealers, who set up laboratories in Nigeria for the production of Mkpuru Mmiri in 2016.
The lawmakers then mandated the National Drug Law Enforcement Agency, NDLEA, to go after peddlers of Methampheramine nicknamed Mkpuru-Mmiri and other hard drugs in the country with a view to stamping them out.